Back to Blog Home

Rae McDermott
Sales Consultant
Rae has 10 years experience in marketing, relationship development, and team building. She is passionate about utilizing new technology in the workplace and has a love of design and impressionist art.
One of the most exciting parts about purchasing a new home is selecting the finishes & colors to make it your own, but how do you know what is included and whether you should consider any new construction upgrades?
Before you even start to think about upgrades, it is very important to understand what the standard features are that come with the home.
Carefully reviewing what features are included in the base price of your new home will help avoid misunderstandings later on and help you identify options you may want to consider adding - it also ensures you are comparing apples to apples when shopping different builders.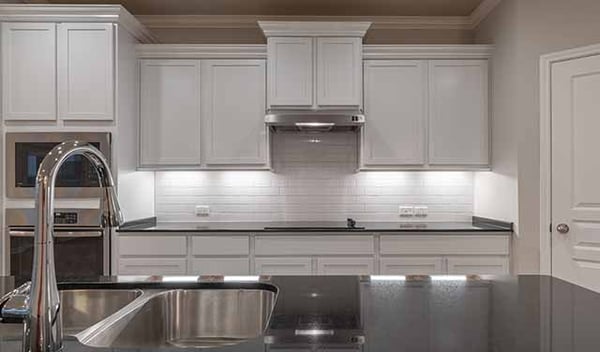 For new Omega homes, the standard features vary by community and are designed to offer the best value and simplify the purchasing process by including the most popular options.
We know how important it is to visualize what your home will look like, which is why our model homes are designed to showcase only our most popular upgrades and help you understand exactly what is included when you tour with our team.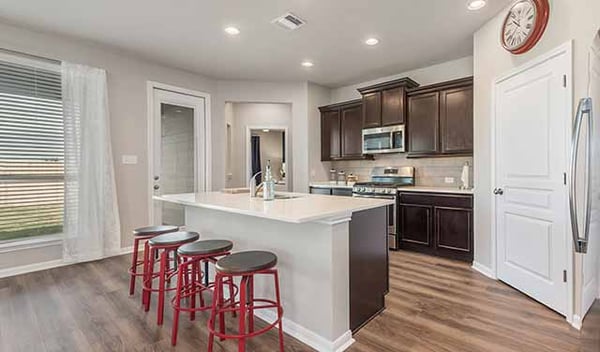 Top 3 Tips from our Team:
Touring homes in the community is a great way to not only see the included features and color choices available, but also to compare the base plan with available structural options added to homes for sale


If you tour the same floor plan in different communities, make sure you talk with our team about the differences so everyone is on the same page about what is included


If you are building from the ground up, you'll have more options available to personalize your new home than if you purchase one that is already under construction, but you can save time if you aren't thinking about adding options


What are the best upgrades for a new home?
Here are the top 5 upgrades our homebuyers choose and why; it is important to note that in some communities these options may already be included or may not be available due to limitations with the floor plans available.


1. Structural Options
The most popular plan options are: covered patio extension, grand shower in the master bath, single level kitchen island, ceiling pop-up in the family room or master bedroom, and built-in appliances.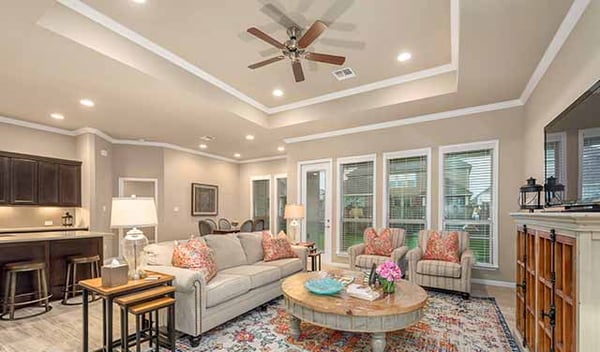 Ceiling Pop-ups (or Tray Ceilings) help to accentuate the main living area within open concept layouts
All structural changes need to be finalized before the start of construction, which is why it's important to discuss those first.
The majority of our structural options are designed to add value to your home, potentially increasing the appraised value & resale value of your home.
Structural changes are not the easiest to make after you've moved in, so it's important to prioritize your budget with your must-haves list.


You might be wondering, do I need a Fireplace in my new home? Many homebuyers aren't sure if adding a fireplace is necessary in Texas, if you're one of them, you'll find answers to the most common questions.
2. Kitchen Finishes
The most popular kitchen options are: white cabinets, stainless steel appliances, high arc kitchen faucet, undermount sink, and subway tile backsplash.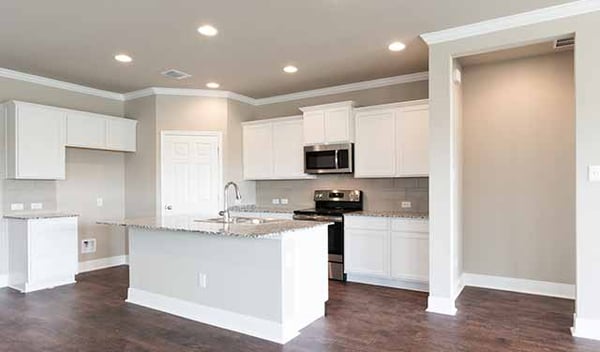 White Cabinets are a great way to brighten your kitchen and work great with a range of decorating styles.
The majority of floor plan layouts feature an open concept layout, making the kitchen the focal point of your new home.
It's likely you'll already be spending a lot of time in the kitchen, why not make it one you'll love?
Cabinets are one of the finishes in your home that impact the layout & functionality of your space making it important to choose a color that you'll love.


3. Outdoor Space
You don't have to invest a lot of money to your outdoor space to make the most of it! Adding a ceiling fan is at the top of the list for most of our homebuyers.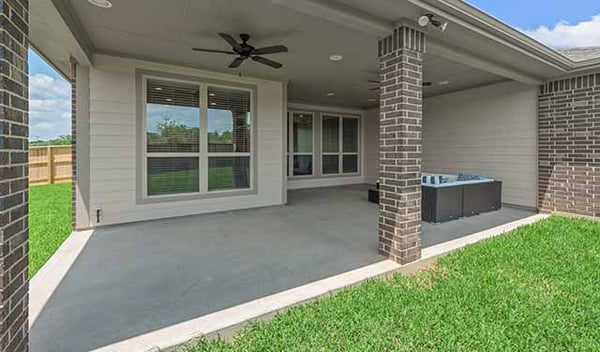 A Covered Patio Extension is a great way to stay cool during Texas summers and have more space to entertain.
An uncovered patio extension is a great way to add extra space & flexibility to your back yard.
If you're thinking about choosing the covered patio extension, make sure it's at the top of your list (it's a structural option).
There are a lot of ideas to enhance your back yard that you can do after you move-in which makes it a little easier to decide if outdoor options are a must-have or if they can wait.


4. Electrical & Lighting
There is a lot of differing opinions when it comes to electrical & lighting, but based on over 50 years of building homes, here are a few things to consider:
Will you be able to plug in your lamps in your living room? Adding a floor plug is a great way to avoid having cords running across the room and can't be added later.
Are you thinking about mounting your TV on the wall? Adding an electrical outlet above the standard height makes getting your home entertainment setup quicker & easier.
Adding recessed lighting during construction is easy, doing this later can be messy & expensive.
Existing light fixtures are easy to swap after you move-in if you want to personalize your home with lights that match your decor.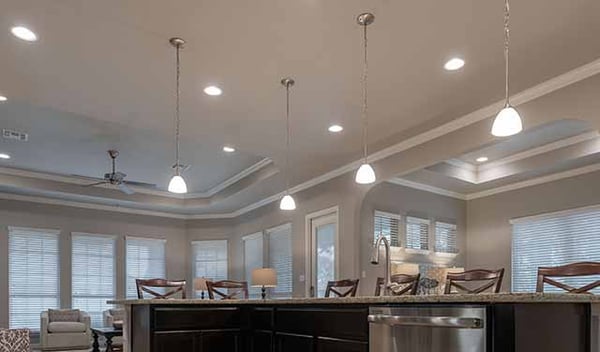 Adding additional light fixtures likely requires an electrician. For example, if you're thinking about adding pendant lighting above your kitchen island we can add them, or you can just add the pre-wire if you want to choose your own fixtures later.
Under cabinet lighting is another great feature to consider if not already included in your community.
Floor plans may have ceiling fans included in different areas, reviewing each space to add pre-wiring is important if you're thinking about installing your own later. Pre-wiring includes two switches to control the fan & lights independently.


5. Flooring
Sure, flooring can be changed any time, but if you're going to buy a new home it's not likely that you want to immediately start renovating after you move in.
Many communities have carpet in the family room that can be updated by adding tile to match the rest of the main areas (kitchen, dining, etc.) or you may want to consider an enhanced vinyl plank flooring that offers the look of wood, but provides more durability and can also be added to bathrooms.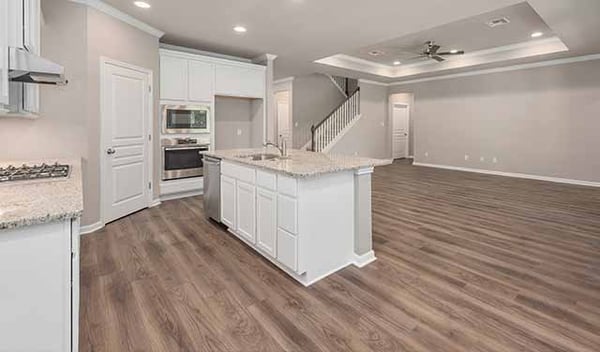 Consistent flooring throughout the main areas gives you more flexibility to layout the furniture in your space, you can also add area rugs and change things up over time.


Included Features & Options
The community overview information is setup to not only show you what is included, but help you to make the best option choices for your lifestyle.
You'll find the features that are always included for the community you've chosen.


Then you'll see options to consider that are the most popular with other homeowners in the same price range. This list doesn't included every option, but showcases those that are most likely to fit your budget and style.


Most communities also offer "plan options" which are pre-designed options to personalize the layout of your home, such as extending the covered patio or adding a fireplace.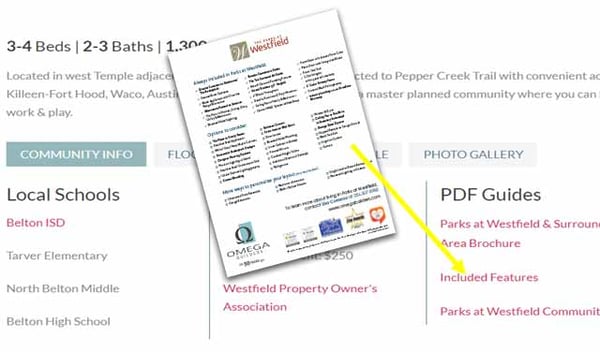 Setting a budget for upgrades is important - a good way to get started is to identify what's most important to you and your new home search.
Thinking about more than one Builder, Community or Floor Plan?
Use our Option Planning Worksheet to get started:
Editor's Note: This post was originally published in July 2019 and has been updated to reflect the most accurate information.