Back to Blog Home

Jennifer Nixon
Marketing Consultant
Jennifer has experience in graphic design, brand development, and digital media. She is passionate about architecture, typography, and black & white film photography.
One of the most difficult parts about buying a new home is visualizing what it will look like when you move-in.Thankfully, our team has put together some amazing resources to make it easier for you!
Jump to check out 3D Virtual Tours ⬇️
Floor Plans Images
We understand that you might be looking at a floor plan for the first time ever and that it takes a little to get your bearings.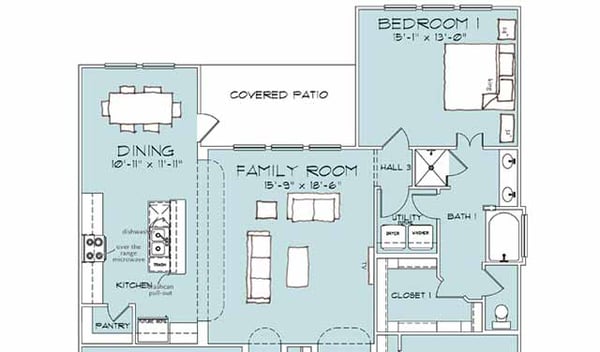 Not only have we created a guide to learn how to read a floor plan, but all of our floor plans are drawn with furniture to help you get a sense of scale & compare the different layouts with a familiar point of reference.
While it may not be your exact furniture, or the way you would place it, seeing furniture on the floor plan is the first step to visualizing what it could be like to live in your new home.
Discover the perfect floor plan for your lifestyle with our Floor Plan Gallery.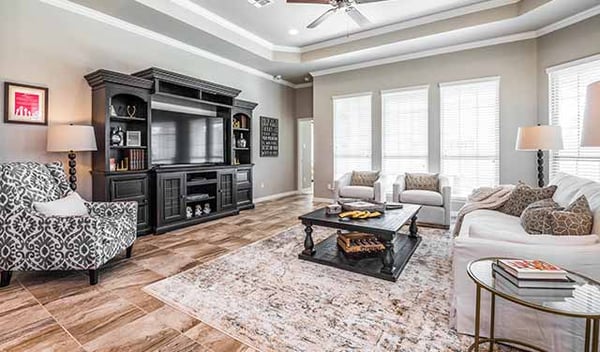 Furnished Model Homes
Touring an Omega Model Home is one of the best ways to get a sense of what living in a new home will be like - you'll get to see layout, colors, quality and because they are fully furnished you'll get to see exactly how it all comes together!
Learn More About Visiting a Model Home
Photo Galleries
You'll find photo galleries on our website for Communities & Floor Plans and also for move-in ready Homes for Sale.
Because seeing furniture in a home is one of the best visualization tools, you can also check out photos of homes that are staged.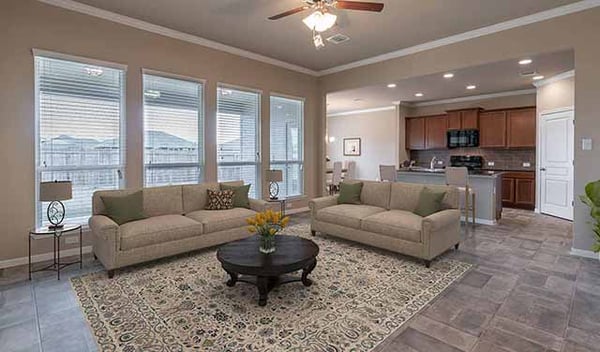 Home staging is usually just the main areas, but helps give you a snapshot of what a furnished home looks like!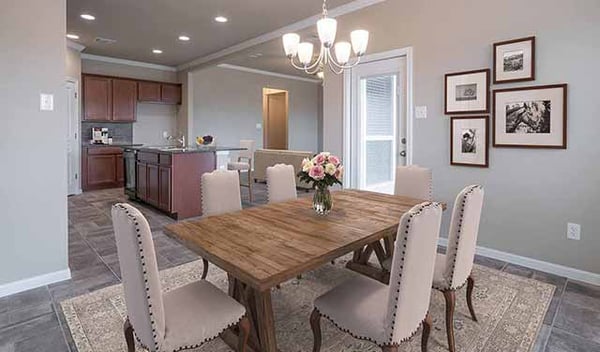 We also have 300+ projects on Houzz.com, the largest and most influential directory of design professionals, that you can explore. Using the "Ideabooks" feature you can compile your favorites all in one spot!
3D Virtual Tours
Another great resource to check out are online virtual tours - this is a great way to see a floor plan come to life if we don't have any complete homes available to tour in person, or if you are relocating to Texas.
If you're really tech savvy, you can use VR goggles to walk the home in virtual reality! Otherwise, you can explore on any device (step-by-step instructions below) - just click or tap to walk around!
Top 3 New Home 3D Interactive Virtual Tours
House Hunting Tip: You can find interactive 3D virtual tours for Floor Plans on our website, not just for new home listings
Floor Plan Virtual Tours
In the Floor Plan Gallery, when you hover over a floor plan, you'll see a button for "Virtual Tour" if the floor plan has a 3D Tour available.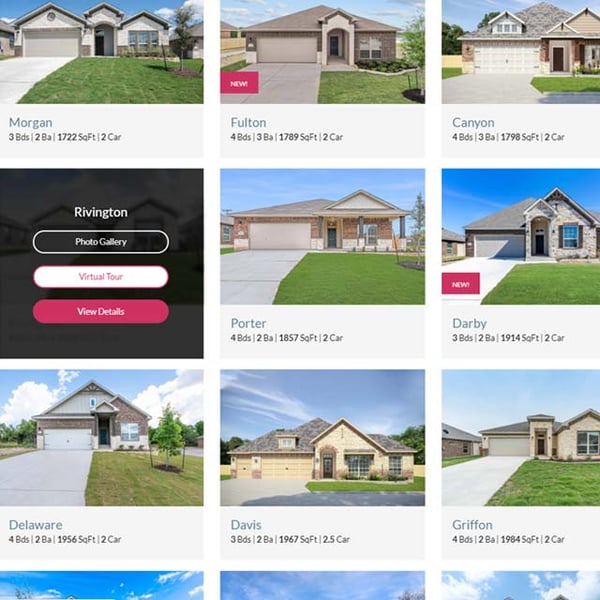 When you open the floor plan page, you'll find the link to open the Interactive 3D Tour on the right side below the contact form:
Next, click on the link to open the tour: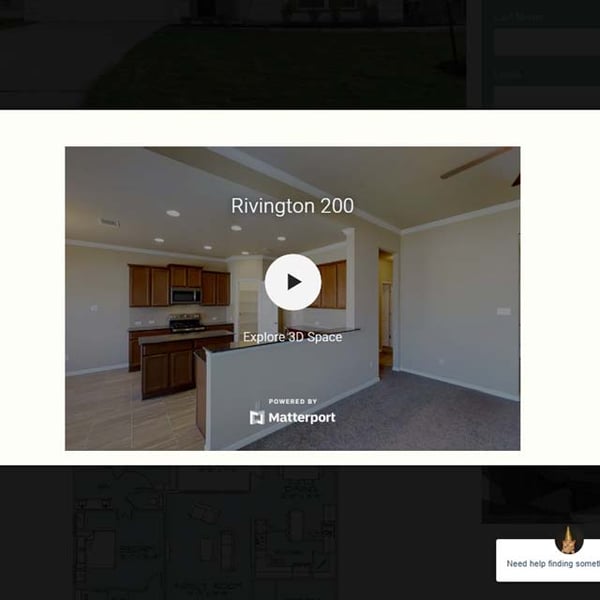 How to View a Matterport 3D Tour
When the tour loads, it will show you a "dollhouse" view before zooming in to the main living area. You'll also see a few icons & images across the bottom.
Here are different ways that you can interact with the 3D Tour & what the buttons mean (click to enlarge):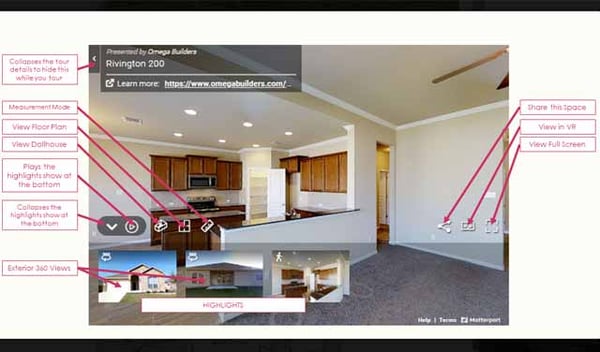 You'll want to collapse the info at the top and the highlights at the bottom to have a better view of the tour once you start to explore. You can also open the tour in full screen.
The controls to interact with the tour are pretty straight forward: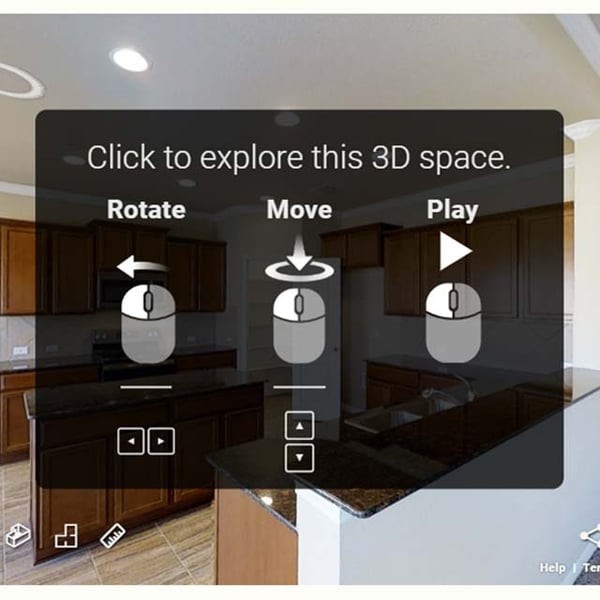 To Rotate, click and move the mouse side to side. To Move through the space, click anywhere and drag to move around your viewpoint. To Play, click on one of the circles shown on the tour and it will jump to that spot in the house.
Dollhouse View
This is a great way to zoom out and move to a different area of the house to explore, it also helps visualize the flow of the spaces & how the room connects.
Just click and drag to move around, then click to zoom in to a space you want to explore next.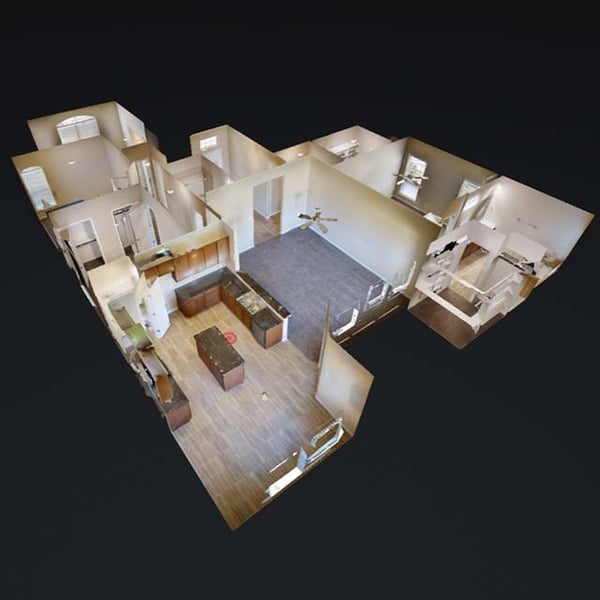 Floor Plan View
This view helps see the arrangement of each space and makes it easy to jump to a different room.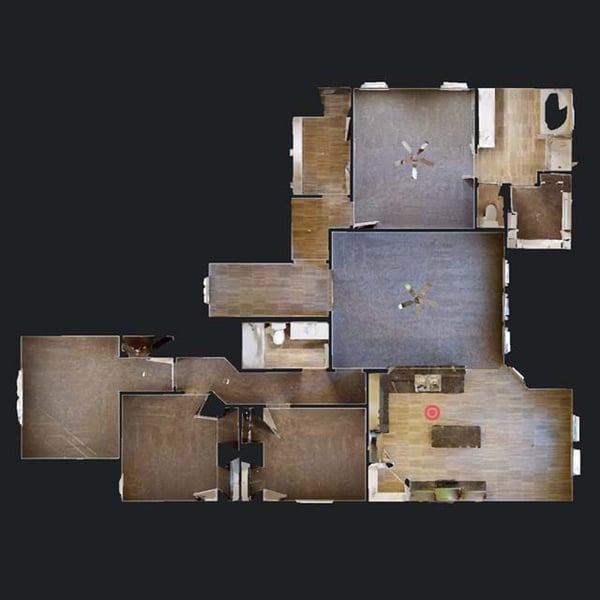 Share Your Favorite 3D Tour
When you find the perfect floor plan or home, you can easily share with family & friends by clicking the Share icon [ ] and choosing where you want to share or by copying the link.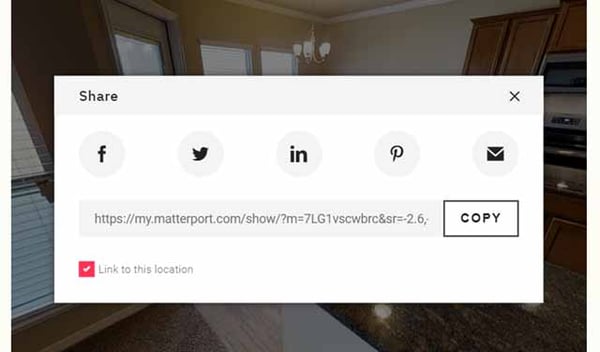 Discover the 10 Advantages of New Homes:
Editor's Note: This post was originally published in February 2019 and has been updated to reflect the most accurate information.