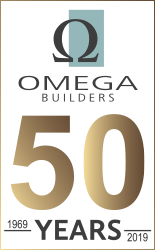 Omega Builders is a regional homebuilder committed to continuous improvement.
New homes by Omega are thoughtfully designed to make the most of the space your family shares. We understand that the design of your home is a reflection of your lifestyle and stage of life - where life unfolds and memories are made.
Every new Omega home is built following lean principles; which means less waste during construction, higher focus on quality craftsmanship, and continuously improving our processes to increase efficiency.
From concept to construction, each of our floor plans are optimized for efficiency & functionality - providing you with more value per square foot, shorter construction time, and higher reliability & performance.
Currently, Omega offers new homes for sale in premier communities throughout the Temple-Belton, Killeen-Ft Cavazos, Waco and Bryan-College Station areas.
Omega Builders is proud to be a member of the Temple Area Builders Association, Greater Brazos Valley Builders Association, Temple Chamber of Commerce, Belton Area Chamber of Commerce, and Bryan/College Station Chamber of Commerce.