Back to Blog Home

Jennifer Nixon
Marketing Consultant
Jennifer has experience in graphic design, brand development, and digital media. She is passionate about architecture, typography, and black & white film photography.
Combining the convenience of a big city with small-town hospitality, the city of Temple is regarded as one of the greatest places to live and work in Texas.
With one of the fastest-growing healthcare systems, low cost of living, high safety ratings, and emphasis on education, Temple is experiencing quick growth attracting residents from all over the state and beyond.
We want to show you why. We're highlighting ten reasons Temple, Tx is a good place to move to. Here are a few important reasons to live in Temple: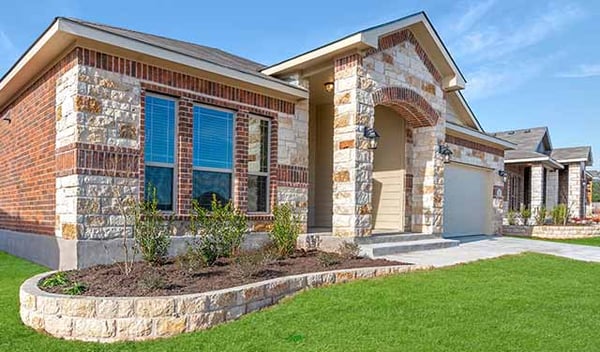 1. Proximity to Major Cities in Texas
Whether it's a family trip to Dallas or a weekend in Austin, you can enjoy all of the benefits of the metro areas without having to live in a big city.
Temple is less than an hour from the Austin metro and two hours from Dallas-Fort Worth. Simply hop on I-35 and enjoy smooth sailing to your favorite big cities.
2. Low Cost of Living
According to Salary.com, the cost of living is 18% lower than the national average. Low transportation, food, and housing costs help make it less costly to live in Temple, Texas. For perspective, living in Dallas would cost you 15.4% more, on average.
Save money year after year by moving to Temple and commuting into Dallas or Austin to visit. While it's appealing to live by all the action, the cost of living difference doesn't always make sense. The commute is fast and easy!
3. Population
You may be wondering, "how big is Temple, Texas anyway?" Temple is home to about 66,102 people, according to April 2020 United States Census data. Comparatively, the same year's consensus counted Dallas's population at 1,304,379 and Austin's population at 790,390. Temple has a pretty significant difference in population than these other major cities. Experience a more intimate, small-town feel in Temple as opposed to that big city feel in neighboring areas.
Learn more about Relocating to Texas.
4. Job Opportunities
Temple's pro-growth attitude and business-friendly environment allow the area to offer diverse employment opportunities while maintaining a lower than average unemployment rate* when compared to the surrounding area, state, and nation.
While all areas in the U.S. were undoubtedly affected by the COVID-19 pandemic, Temple, Texas's unemployment rate has been steadily dropping again since mid-2020, according to historical data tracked by YCharts.com. While it's not as low as the average pre-pandemic, it's on a consistent decrease. Living in Temple, you shouldn't have big concerns about unemployment.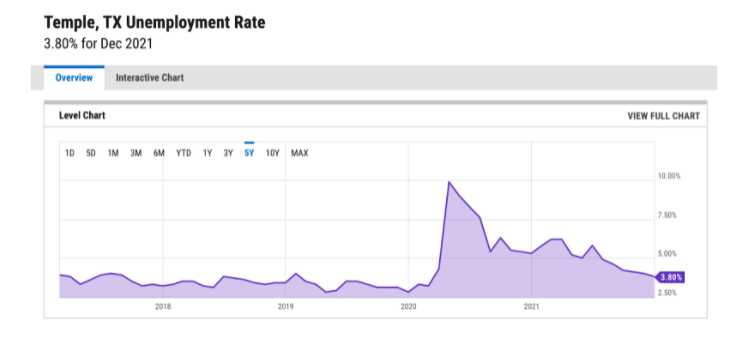 5. Safety Ratings
You're probably wondering, "Is Temple, Tx safe?" If safety matters to you and your family, remember that certain parts of Temple will be safer to move to than others. According to Crimegrade.com, people consider the northwest part of the city the safest. "Your chance of being a victim of crime in Temple may be as high as 1 in 19 in the central neighborhoods, or as low as 1 in 58 in the northwest part of the city."
6. Premier Healthcare Facilities
When we think of safety, healthcare and emergency services often go hand-in-hand. Between Scott & White Medical Center, McLane Children's Medical Center, and the VA Central Texas Healthcare System, Temple has your health needs covered.
7. Higher Education is a Priority
This lively area is home to Temple College, recognized as a national leader among community colleges. Not only does Temple College offer the opportunity for high school students to earn dual credit, there are also a range of courses available to continue your education, no matter what age you are! You'll also find a variety of cultural events throughout the year, such as the Jazz Festival and art shows.
Nearby, you'll also find the University of Mary Harin-Baylor in Belton or Texas A&M University Central Texas in Killeen. Convenient access to higher education makes Temple, Tx a great place to move to.
8. Outdoor Recreation
Staying active is easy in Temple, Texas. There are so many community and neighborhood parks, a growing trail system, indoor and outdoor swimming pools, two golf courses, and more. There's also the Crossroads Recreational Complex, featuring sports fields, courts, pavilions, and trails for the whole family to enjoy!
The Temple Convention & Visitors Bureau has put together a list of 101 Things to Do in Temple TX. This is a great resource for current and future residents alike to experience a broad range of what Temple has to offer.
9. Shopping Options
Temple Mall offers larger stores like Dillards & JC Penney. For more popular retail stores, Round Rock Outlet Mall is only 40 minutes away.
Looking for a more local shopping experience? Westfield Market features local shops and dining and is connected to Pepper Creek Trail's hike and biking systems, making it a lovely summer stop. Additionally, The Hub has a range of boutiques, fresh produce, and local goods are available at the Farmer's Market.
10. It's Sure to Keep Growing!
Temple will continue to grow as more companies make the move to the area! Real estate remains affordable compared to larger metros, providing you the opportunity to make an investment in your future and continue to grow your savings.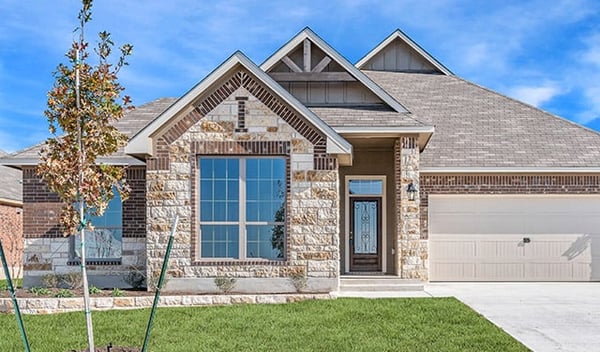 Find the Best Neighborhoods to Live in Temple, TX
For those wondering, "is texas a good place to move to?" we hope we answered some of your questions. With comfortable safety ratings, great schools, a prime location next to major cities, and a more intimate population, Temple is an amazing place to raise your children and settle down as a family.
Omega is proud to build in premier master-planned communities in Temple, offering a range of choices when it comes to schools, amenities, location, and price.
Moving to Temple, Texas? We've got you covered. Check out our Local Guide to Temple, Texas which includes contact information for utilities, city services, schools, and more.
---
As home builders in Temple, TX for over 50 years, Omega Builders has won numerous awards for home design & customer service, as well as established a reputation for quality construction with homes that are built to last. New homes are available in the best neighborhoods in Temple TX, offering a range of choices when it comes to schools, amenities, location, and price - Explore Communities in Temple.
---
*According to data from the US Department of Labor's Non-Seasonally Adjusted Unemployment Rate
Editor's Note: This post was originally published in May 2017 and has been updated to reflect the most accurate information.