Back to Blog Home

Jamie Cooley
Sr Loan Originator
Jamie has 10+ years' experience in personal finance with over 1,000 loans closed! He enjoys helping others succeed & teaching - not only what he's learned, but what he's seen through his experience.
Jamie Cooley is a Sr Loan Originator with Fairway Independent Mortgage Corporation
NMLS#1044127
If you're thinking about buying a new home, figuring out how a down payment works is probably at the top of your list.
You've probably heard terms like, "zero down," or "20% down" - but what do they mean and what's the difference?
Down Payment for a Mortgage
Determining how much to put down on your mortgage varies, it depends on your situation and what you qualify for - each type of loan has it's own requirements.
But first, what is a down payment?
A down payment for a new home is the cash amount you pay at closing that reduces the amount you have to borrow and is usually a percentage of the sales price of a home.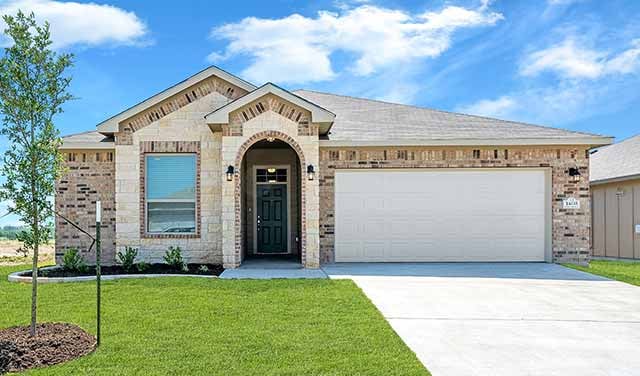 A down payment goes directly to the purchase price which reduces the total amount of money you have to borrow, the remaining balance is your loan amount.
Example: A new home listed at $218,500 with 20% down would have a down payment of $43,700 and the remaining $174,800 is the loan amount that you would borrow from your lender.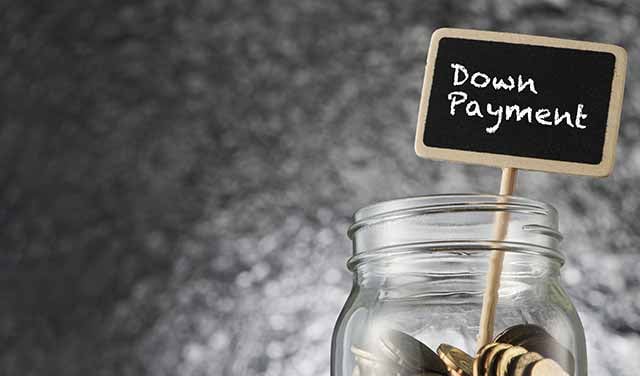 Calculate Down Payment
Calculate your down payment and monthly mortgage payment with Omega's easy to use mortgage calculator.
To calculate your down payment, you'll first need to understand the four major types of loans:
Down Payment for a Conventional Loan
Conventional is one of the most popular loan programs on the market today. Conventional loans require buyers to put down 5% of the sales price, or purchase price, with certain exceptions.
Some first time home buyers or those with household incomes under a certain limit can qualify for a 3% down payment.
If you can save up and put 20% down, you can avoid Private Mortgage Insurance (PMI) which will save you money in the long run and is one of the advantages of conventional loans.


What is an FHA Loan?
An FHA loan is a mortgage that is insured by the Federal Housing Administration (FHA) and is issued by an FHA approved lender.
An FHA Loan is geared towards first time homebuyers and requires mortgage insurance no matter how much you put down.
A down payment of 3.5% of the sales price is required by the FHA, with no exceptions.
Requirements for a VA Loan
VA Loans are for Veterans or Veterans & Spouses only. There is no down payment required, commonly referred to as a zero down loan.
This means that Veterans can purchase a new home with no money down, which is really great!
USDA Loan Eligibility
The United States Department of Agriculture offers a special loan program for specific properties to promote rural development, applicants must also meet household income guidelines.
Determine USDA Income and Property Eligibility
USDA loans are similar to VA loans in that they do not require a down payment.
How is a Down Payment Paid?
Your down payment is paid by cashier's check or wire transfer to the title company at closing and is part of the total funds transfer to the builder/seller, the rest of the funds come from your lender.
In addition to your down payment, the amount you pay at closing also includes closing costs.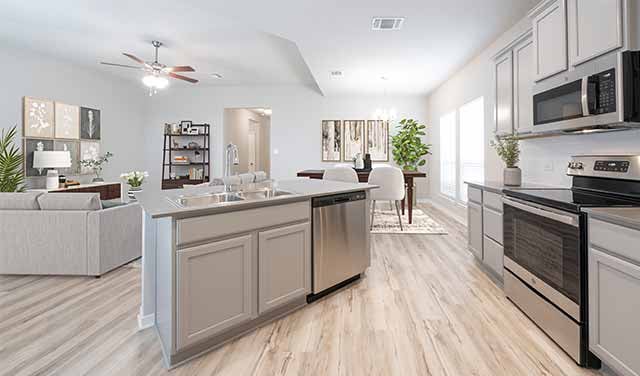 Down Payment Assistance
There are programs available for down payment assistance, typically you'll pay a slightly higher interest rate in exchange. The best way to determine the right loan type and review available options and programs is to work with a loan officer, your situation is unique and the best way to find out is to get started!
Start Prepping for Your Loan Application
Check out our latest guide about applying for a mortgage loan:
---
Featured Expert
Jamie Cooley is a Sr Loan Originator with Fairway Independent Mortgage Corporation and has been recognized as a Top 1% Mortgage Originator in America the last 5 years. Jamie is an Omega Builders preferred lender and works closely with our home buyers to ensure a smooth closing from start to finish.
NMLS# 1044127
---
This article is provided for informational purposes only. Omega does not warrant or guarantee the accuracy of the information provided and makes no representations associated with the use of this information as it is not intended to constitute financial, legal, tax, or mortgage lending advice. Omega Builders encourages you to seek the advice of professionals in making any determination regarding, financial, legal, tax, or mortgage decisions as only an informed professional can appropriately advise you based upon the circumstances unique to your situation.