Back to Blog Home

DC Carter
Closing Coordinator
Christopher, or "DC", works with customers to make sure they have a smooth closing experience.
Construction is well underway and your closing date is set - now what?
What Does it Mean to Close on a House?
Closing on your new home is the "settlement" process of the real estate transaction after you've signed a contract for a new home.
Settlement is when the legal transfer of property occurs and funds are transferred from the buyer to the seller.
Where is the closing?
Closings typically occur at a title company and are attended by all buyers and the Escrow Officer.
It is important that all buyer parties on the contract are present to sign - this includes non-purchasing spouses. If you have questions about who needs to sign, please contact your lender and the title company for clarification.
In the last 10 years Omega has successfully closed over 2500 homes with CentraLand Title Company located at 2005 Birdcreek Drive in Temple. They are a valued partner because of their local expertise, service standards, market conduct and commitment to the community.
Due to our long standing working relationship, the CentraLand team understands our processes, which results in a hassle-free experience for Omega buyers. For Brazos County closings, CentraLand is able to offer a convenient signing location at University Title Company located at 1021 University Drive East in College Station.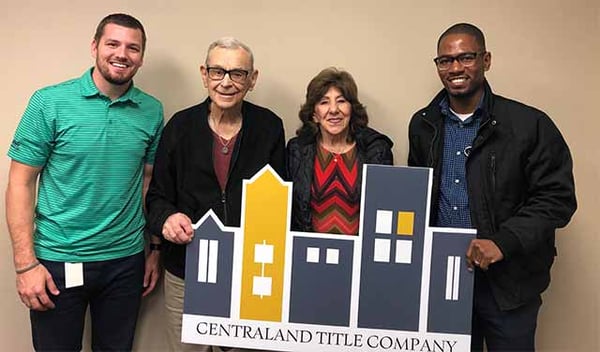 Closing at CentraLand
Prior to your closing, you will receive a Closing Notice from one of Omega's Closing Coordinators that outlines the following:
Closing Location (where you need to be on the date/time of your closing)
Who will send the Closing Disclosure (this will have the total amount due at time of closing)
How to pay the title company (ONLY Bank Cashier's check accepted, no personal checks)
What to bring (you'll need your driver's license or government issued photo ID)
Overview of what Omega has provided the Title Company (ensuring a smooth closing for all)
Next steps for you to prepare


Helpful Tip: Save the phone number listed on the Closing Notice for the Title Company to your cell phone.
How to Prepare for Closing
1. Take Time Off From Work
Once your Close Date is scheduled, you'll need to arrange to be at the Title Company for about an hour to sign all of the documents. Don't forget to account for the time needed to drive to & from the Title Company.
Reminder: All buyers including non-purchasing spouses must be present.
At Omega, our team is focused on providing on-time home completion to avoid closing delays and are proud to have 98% on-time closings. Very rarely, there might be a few outstanding items from your buyer walk that will need to be completed after closing.
We will do our best to schedule your closing for a date/time that works best for you. All closings are Monday to Friday and scheduled at the top of the hour from 9 AM to 4 PM.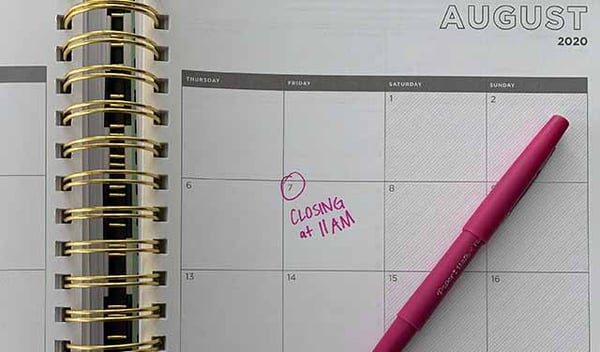 Helpful Tip: If possible, choose a time earlier in the day to ensure funding completes and you are able to get your keys at the time of closing.
2. Setup Property Insurance
You'll need to provide your lender/creditor with either proof of Homeowners Insurance or Rental Property Insurance (if purchasing an investment home).
If you do not have a lender and are paying cash for your home, you will need to provide proof of insurance to the title company.
With most insurance companies, you can begin working on this once the contract is signed and you have the details available about your home.
Typically, the insurance company will ask you questions about the size, construction and appearance of your home to determine the coverage needed, in addition to the sales price and also what type of coverage you need for your belongings.
3. Schedule Optional 3rd Party Inspection
Per the General Conditions Addendum in your New Home Contract, you have the option to have the property inspected by a licensed property inspector prior to closing.
The Third Party Inspection is at your expense and is not scheduled by Omega, refer to your contract or call your Omega Sales Agent for complete details about how to schedule & when the inspection must be done.
4. Schedule Utility Transfers
Builder Utility Services will be terminated one business day after closing.
All utilities need to be setup in your name - this includes:
Other utilities you'll want to setup or schedule for setup in advance:
Trash / Recycling
TV / Phone / Internet
Helpful Resources with Utility Contact Info:
College Station, TX Local Guide
5. Review Closing Disclosure
If you are purchasing your home with a mortgage loan, your lender/creditor will provide the Closing Disclosure. Otherwise, for cash purchases, the Title Company will provide the Closing Disclosure.
The Closing Disclosure will outline all the money owed at time of closing, including your down payment, closing costs and money paid to or contributed by the seller.
Helpful Tip: You may want to compare the fees listed on your Closing Disclosure with the loan estimate you received from your lender when obtaining loan approval. This will allow you to check with the lender if you notice any discrepancies in advance of closing.
6. Obtain Cashier's Check or Schedule Wire Transfer
Regulations prohibit the use of personal checks for real estate closings. You have two payment methods: Bank Cashier's Check or Wire Transfer.
Wire Transfer: You'll need to work with the title company and your bank to make arrangements several days in advance.
Cashier's Check: You'll need to work with your bank to request a Bank Cashier's Check for the full amount shown on your Closing Disclosure - the check should be made payable to the title company listed on your Closing Notice (not Omega Builders).
7. Update Your Mailing Address
You can submit change of address forms to USPS in advance of your move with a scheduled date to forward your mail predetermined.
Visit the Post Office Website to Update Your Mailing Address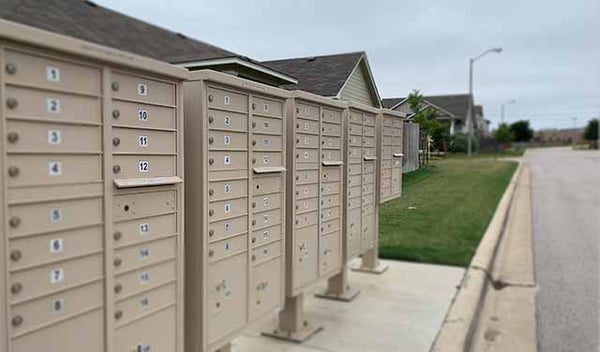 If your new home community does not have individual mailboxes then you will have a box in a cluster mailbox.
IMPORTANT: To obtain your mailbox key for your cluster box, you will need to take your Closing Disclosure or Settlement Statement and valid photo ID as proof of ownership to the city's main post office.
What Happens at Closing?
You'll arrive at the title company and wait for the Escrow Officer to start the meeting.
All of the documents have been signed in advance by the seller (one of Omega's authorized signers), this not only saves time at the closing table for you, but helps streamline the process for all Omega closings.
All buyers (each person listed on the contract & non-purchasing spouses) will sign the documents as reviewed by the Escrow Officer.
A copy of your ID will be made to verify your identity for notary purposes.
The Escrow Officer will notarize the documents as part of the signing process.
The home is officially closed and yours once "funding" has occurred Funding occurs when all documents are signed, approved, and money has been disbursed.
Helpful Tip: It can take 3-4 hours after closing for funding to occur - without funding, you cannot get the keys and take possession of your new home - be sure to keep this in mind when scheduling the time for your closing.
The Escrow Officer will provide you with a handful of documents during the meeting and you will receive a copy of all documents via your choice of emailed digital files or mailed CD files following the meeting.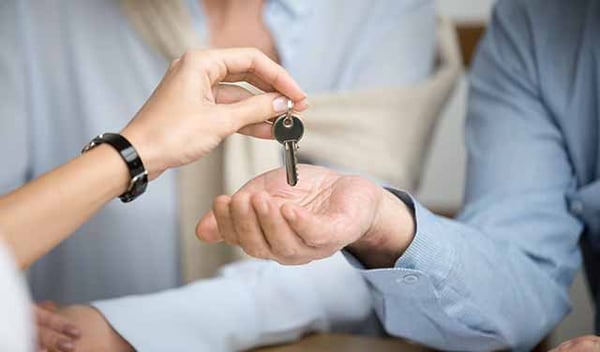 With the receipt of funds, you'll receive the keys to your new home!
What if Something Goes Wrong?
Just like things can go wrong on a job site, things can also go wrong when preparing for a closing - and that's OK, the important thing is to communicate with your closing coordinator and lender to make sure everyone is on the same page.
Our closing team carefully reviews the documents provided from the lender and title company to verify there are no mistakes. If you see your name misspelled or something else amiss, let us know immediately so we can get it fixed ahead of closing.
If you're running late or get stuck in traffic, call the Title Company and let them know so they can adjust accordingly.
I have the keys, now what?!
If you live in a community with an entrance gate or amenities like a swimming pool that have gated access, you will need to reach out to your Homeowner's Association (HOA) directly to get the access codes/cards.

There is a form regarding the HOA included in the closing documents you'll go over at the title company, this includes all the pertinent contact information.

Just in case, there are links to the homeowner's association websites on the community pages of Omega's website, but... the EASIEST way to find contact information for your HOA is to google it using your community name and "hoa" to find the website quickly.

For example, google "Hills of Westwood hoa" and the first result is for the homeowners association. There are a few really new communities that may not have a website yet, but our team would be happy to point you in the right direction if you get stuck.
Here are a few basics to do once you've closed & moved:
Store contract and closing documents in a safe place (digital and print)
Check your locks & garage openers/keypads to make sure everything locks properly

All exterior doors are rekeyed from the builder key to your own private key right before closing

Make sure your friends & family know about your move and your new address
Update your mailing address for all of your accounts, with work, school, etc.
Complete your Homestead Exemption and file any other tax exemptions
Meet your neighbors and exchange contact info for emergencies
You might also want to check to see if your neighborhood has a community on the Nextdoor website/app to meet more people in the area and discuss local/community events or plan a get-together!
Start Prepping Now
Get started with our printable Closing Check List: