Back to Blog Home

Ryan Waldron
Chief Operations Officer
Ryan has 16+ years' experience in construction, purchasing, and operations. He was recognized as the 2016 Builder of the Year by the Temple Area Builder's Association.
Regardless of the architectural style, your new home features a product composed of cement fiber. There are a variety of fiber cement products available including:
planks that feature a wood grain texture for siding
smooth & shake textured panels often used in porches & gables
perforated panels for soffits
both smooth & wood grain trim pieces
These can be combined to not only enhance the design of your home, but increase the longevity & durability.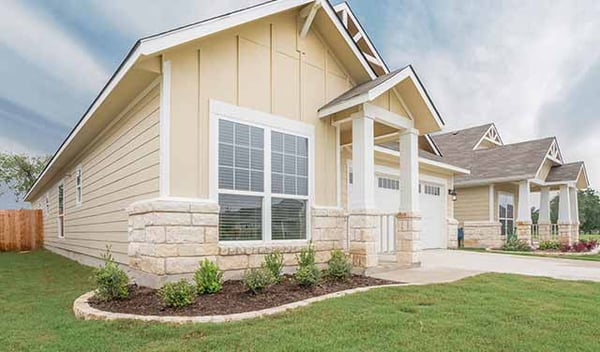 Fiber cement is a masonry product designed to replace traditional wood and vinyl elements on homes, but due to the higher sustainability it is often used in combination with or in place of traditional brick and stone.
These products are comprised of a mixture of sand, cement, wood fibers & water that are engineered to better withstand weather and resist cracking, splitting, rotting & swelling - at a more affordable price than brick and stone.
While sometimes called hardie plank, this is a term that is derived from a specific product sold by JamesHardie. Cemplank is another popular manufacturer of fiber cement siding.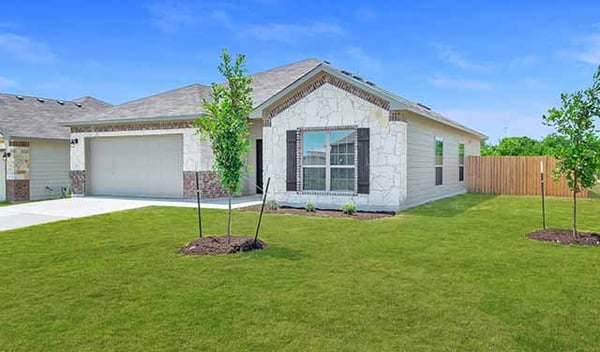 For homes built in master planned communities, the amount & location of masonry (brick, stone & cement fiber siding) is determined by the developer (often with input from the builders).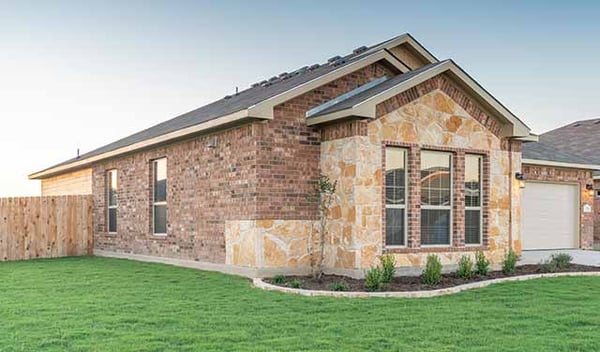 The most common masonry requirements are:
25% Masonry - the front elevation features predominately brick/stone with siding at the front porch and a minimal brick/stone return on the sides of the home before transitioning to fiber cement siding


50% Masonry - the front elevation and half of each side of the home are predominately brick & stone with siding accents and fiber cement siding at the front porch; usually transitioning at the fence


75% Masonry - the front and both sides feature full brick & stone and full siding across the back of the home with both porches featuring fiber cement siding; commonly referred to as 3-sides brick


90% Masonry - all four sides of the home feature full brick & stone with fiber cement siding only at the porches; commonly referred to as 4-sides brick
This not only establishes a consistent aesthetic throughout the neighborhood, but to help define a desired price range and ultimately the affordability of the homes being built.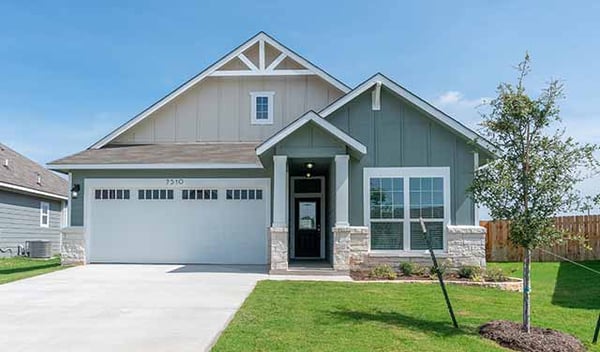 Benefits of Using Fiber Cement Products for Your New Home
One of the main reasons engineered masonry siding & trim are becoming more popular is due to the overall sustainability of the product - it not only lasts longer, but is also better for the environment.


Longevity
The lifespan of fiber cement ranges from 50 to 100 years depending on the product, making it comparable to brick which has an average lifespan of about 100 years.
It is also impact-resistant, moisture-resistant, fire-proof, and termite-proof.


Less Maintenance
Whether smooth or textured, there are not the same inconsistencies in the material as found in wood so the paint holds better, reducing maintenance costs.
With homes that are painted on-site, you'll likely only need to repaint every 5-7 years. Proper care & maintenance can easily extend the length of time between painting.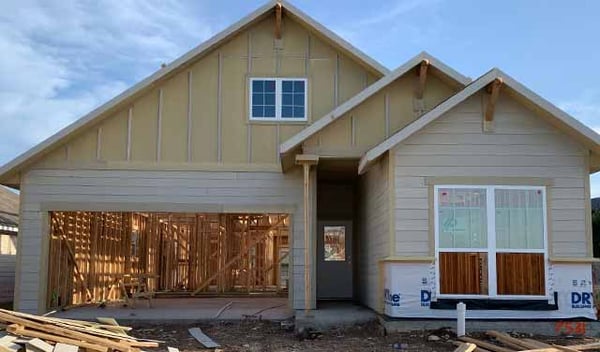 Home Under Construction Prior to Painting the Fiber Cement Siding
Ongoing Savings
Aside from saving money up front, many insurance companies offer discounts because it is a non-combustible material and resistant to hail damage.
Design Considerations for Fiber Cement Products
There are many ways to incorporate fiber cement products into the design of your new home, whether the majority of your home is fiber cement siding like with cottage-style designs or only used to replace wood elements, such as trim around the garage door.


Front Porch
One of the areas that benefits the most from using the lap siding product is the front porch. Brick & Stone are excellent materials, but they have a very rough texture and are also much thicker.
Even if just a few inches on each side, using siding opens up your porch and gives you a wider footprint.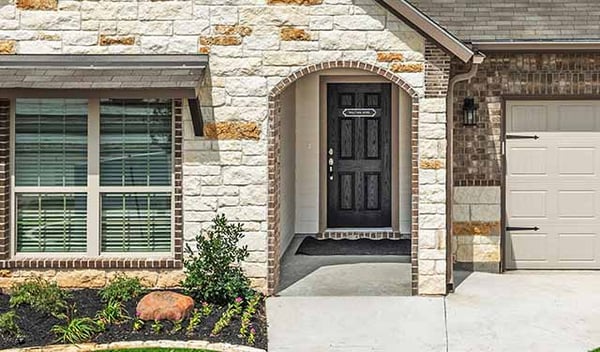 By using fiber cement siding on the front porch, you'll find the entry to your home to have a more welcoming feel - and when you choose a lighter paint color for your siding, you'll enhance the curb appeal, create a brighter space, and make your entry a focal point.
Back Porch
Likewise, using siding on covered patios helps soften the appearance - lighter colors also reflect more light, which in turn allows more natural light to penetrate the windows to your family room. Learn more about new home exterior paint colors.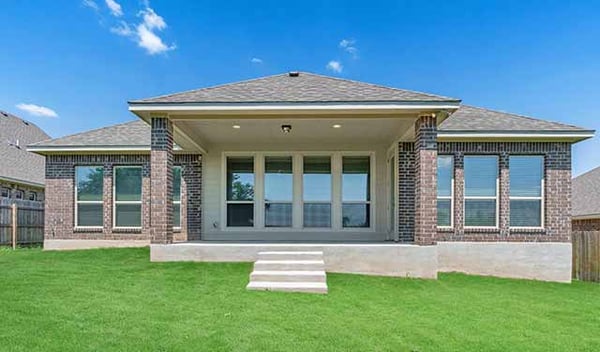 Architectural Features
There are so many applications for fiber cement panels to enhance the exterior design of your new home.
By adding vertical trim pieces, a bead-board look can be achieved in the gables and enhanced with accent paint & stained cedar detailing.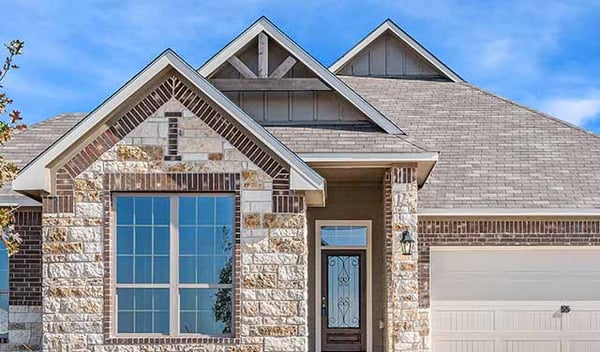 Fiber cement panels are also available with a "shake" texture - which recreates the wood shingle siding look prevalent along the west coast and homes built in the early 50s & 60s.
Dormer windows are a great way to incorporate textured siding and add an extra layer of detailing to the elevation design.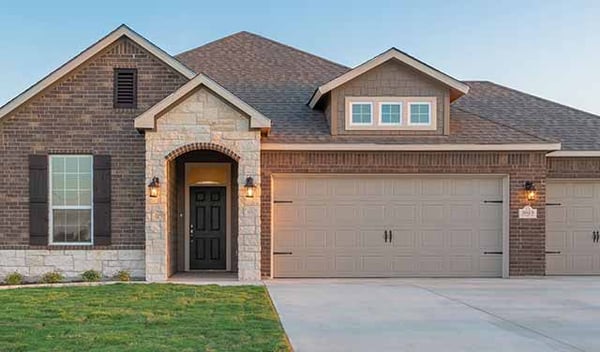 Structural Integrity of Fiber Cement Siding
All Omega homes are built with fiber cement trim, fascia, soffits, and porch ceilings. By replacing wood components on the home, you won't have to worry about water damage and replacing these items down the road.
When comparing new homes & builders, be sure to check what materials are used for trim - it is still common for many builders to use wood around the garage door openings and as trim around doors & windows, as well as composite materials for porch ceilings.
Thinking about more than one Builder or Community?
Check out our 5 Questions to Ask About Construction worksheet to get started: