Back to Blog Home

Jennifer Nixon
Marketing Consultant
Jennifer has experience in graphic design, brand development, and digital media. She is passionate about architecture, typography, and black & white film photography.
Being recognized as the 2019 Grand Award Winner is a testament to the hard work & dedication of all of Omega Builders employees under the guidance of the leadership team, which has allowed Omega to become what it is today!
Omega Builders was recognized by the Texas Association of Builders (TAB) at the 2019 Star Awards on August 8th at the Gaylord Texan in Grapevine, Texas. The Star Awards are given annually in conjunction with the Sunbelt Builders Show™ to recognize excellence in all areas of the homebuilding industry, these awards are highly-coveted within the industry.
Out of 575 entries submitted, Omega Builders was a finalist in six categories and ultimately won three Star Awards in addition to the Volume Builder Grand Award, Medium (100 - 299 Home Volume).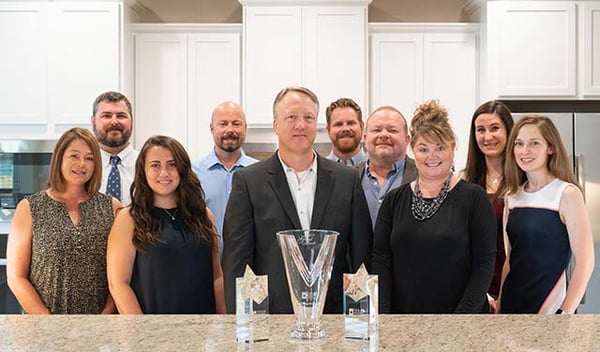 Omega Builders Leadership Team
---
Omega Builders' Service Coordinator, Tammy Burgess, won the individual achievement award for Warranty Professional of the Year.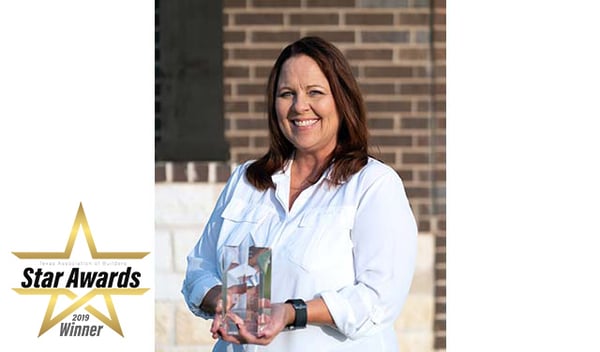 Tammy has provided a seamless customer service experience for our homeowners and customers as we worked through not just one new company-wide software implementation, but two in a very short time-frame.
She has ensured that all open and incoming warranty items were addressed in a timely manner and coordinated with our construction team throughout the transition.
She has also worked one-one-one with customers to access the new warranty portal and walk them through the process of submitting new tickets.
"Service after the sale is one of the key factors that makes purchasing a new Omega home different than buying with our competitors. This is due in large part to Tammy's commitment to providing an exceptional experience in every interaction." - Rae McDermott, Sales Manager.
Tammy was recommended for her attentiveness to detail, patience & understanding, clear communication skills, and dedication to our customer experience by Omega's Chief Operations Officer Ryan Waldron to receive the award.
---
In addition to the Grand Award, Omega also won two awards in the Volume Builder category: Best Print Ad and Best Kitchen Under $250k.
The winning advertisement was featured in INSITE Magazine alongside an editorial about Omega showcasing new communities in the Bryan-College Station area.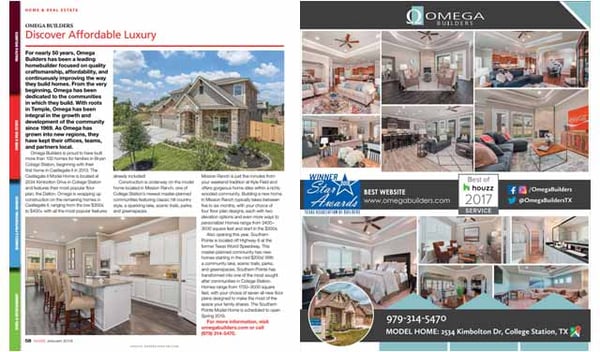 The winning kitchen was featured in the Temple Area Builder's Association's Spring Parade of Homes and was located in Belton's River Place community.
The home featured stunning white cabinets with a white subway tile backsplash, contrasting black granite and stainless steel appliances. The home design & finishes are designed to offer our homeowners affordable luxury.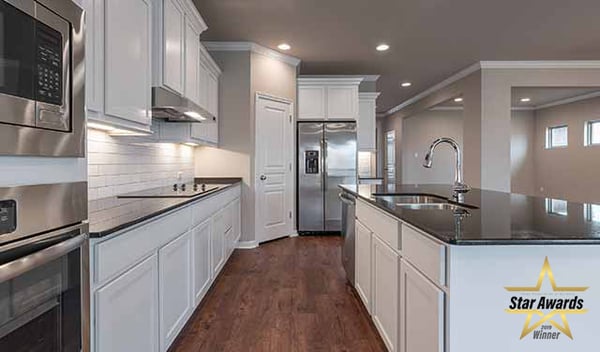 ---
TAB's Star Awards is an annual competition and the only statewide tribute to excellence in the homebuilding industry.
This is the second year Omega has been recognized at the Star Awards. Last year, Omega won the Volume Builder award for Best Website and I was honored to be awarded the individual achievement for Marketing Professional of the Year.
Omega is celebrating 50 years as a home builder and winning the Grand Award is an incredible way to mark this key milestone in our legacy.
Our success is driven by our commitment to ensuring an exceptional experience in every interaction - before, during, and after the sale.
Hear the happiness from those that matter most, our customers:
---
Founded in 1946, the Texas Association of Builders is an affiliate of the National Association of Home Builders and has 27 local home builders associations across Texas. With a membership of nearly 11,000 representing over 723,058 jobs and more than $67.5 billion annually in the Texas economy, TAB plays a crucial role in providing housing for Texans.
Omega Builders is a member of the Temple Area Builders Association and the Greater Brazos Valley Builders Association.