Back to Blog Home

Jennifer Nixon
Marketing Consultant
Jennifer has experience in graphic design, brand development, and digital media. She is passionate about architecture, typography, and black & white film photography.
Every where you turn, there is a lot of buzz about the environment in April - and for good reason, both Earth Day and Arbor Day are a few days apart.
While many are out planting trees today, for Texans Arbor Day is actually the first Friday in November.
ICYMI from Gardening in Your Back Yard, Bell, Brazos & Williamson counties are all in Zone 8B, which means our planting schedule for trees is a bit different than most other states.
Free Tree Programs
Many years ago, when we bought our first home, we applied for a free tree through the Tree for Me program offered by Temple Parks and Recreation. This is a great opportunity for residents of Temple to help beautify the community - and spruce up your yard!
For those in Brazos county, be sure to check out the Memorial Tree Program - with a donation of $100, Keep Brazos Beautiful will plant a tree in one of the community parks or along a local roadway.
Similar to Temple, the city of Georgetown has an Arbor Day Tree Giveaway for residents in November to receive one free 5-gallon tree and similar to Brazos county, with a $250 donation you can participate in Georgetown's Memorial Tree program to mark a special occasion or honor a loved one with a 8-12' tall tree planted in one of the city's parks.
One of the initiatives by the Arbor Day Foundation is called Tree City USA, which encourages cities to incorporate trees in urban development and expand public trees within the community. In Texas, there are 84 Tree City USA communities, including Temple, Bryan and College Station!
Planting Trees
Since most new homes (and all Omega homes) come with a tree in the front yard, planting a tree or two in your back yard is a great option.
Just remember, whether or not you have irrigation, you'll need to water newly planted trees a lot more when you first plant them, but once they are established native trees will require less water over time.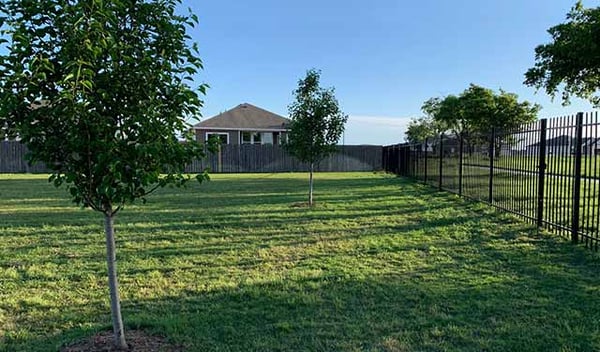 Trees in your back yard are a great way to add shade (once they mature)
There are lots of options available if you want to plant trees in your yard, you'll find trees of varying sizes at local nurseries with lots of options for native trees, but you can also find non-native trees that still thrive in your zone.
Growing a Tree from a Seed
Planting a sapling in a pot makes it easier to take care of, protect from changes in the weather, and wait until it grows a bit bigger before planting in the yard.
You'll also be able to find the perfect place to plant it since you'll be able to move the pot around. This will make sure you find the perfect spot that gets enough sun (and water).
This is a great budget friendly option if you have a little patience!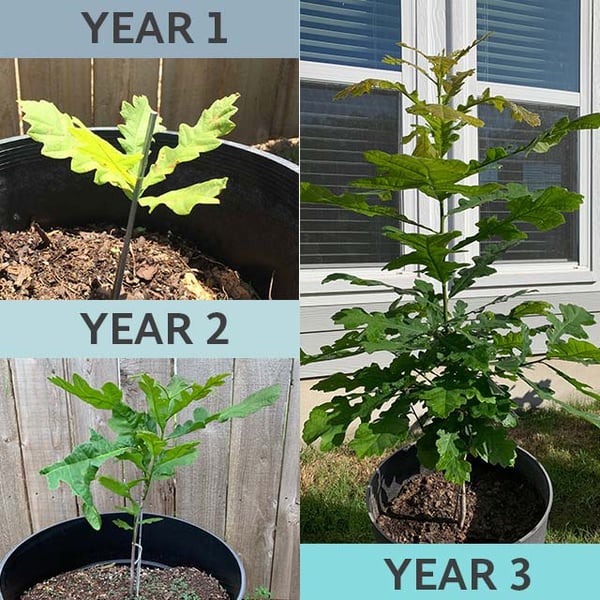 Tree preservation During Construction
One of the criticisms we often hear about building new homes is that, "the developer just comes in and cuts down all the trees."
While this might be the case for some developers and some builders, there is a considerable amount of time spent by our team and the developers we partner with to save as many legacy trees as possible and to incorporate new trees in every community by way of establishing HOA restrictions that require native trees to be planted with each home.
As a builder, we also follow guidelines from arborists for protecting the root system of existing trees during construction.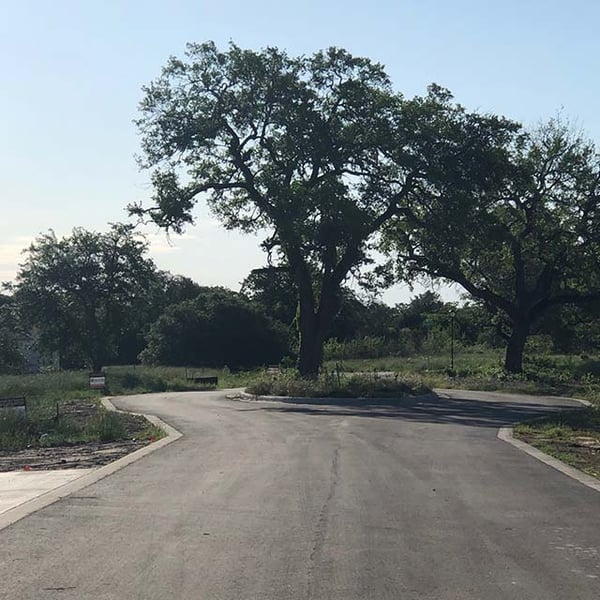 This road was developed to split around the existing oak tree
Being mindful with lot orientation & boundaries, planning streets carefully & creating medians around trees, and incorporating parks & greenspaces goes a long way towards preserving existing trees.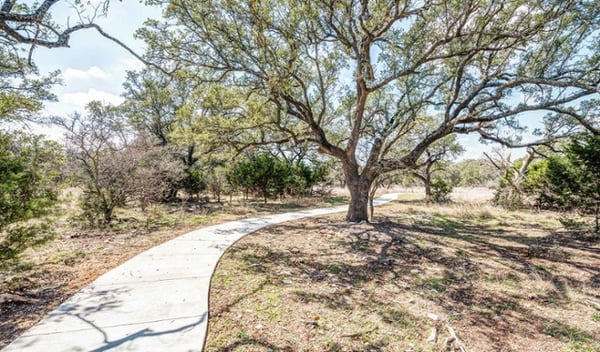 Legacy trees in community pocket park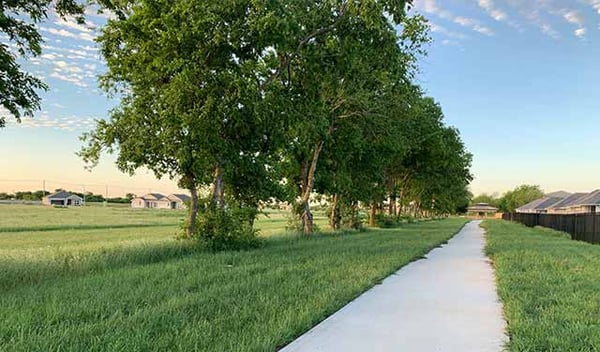 Trees along a former property line were incorporated in the master plan for Westfield along the trail
Something I don't think many people consider is that a lot of the communities that were developed in Temple were previously prairies and farmland, most of which had very few trees, if any. By planting trees with every home built, the number of trees is actually significantly increased!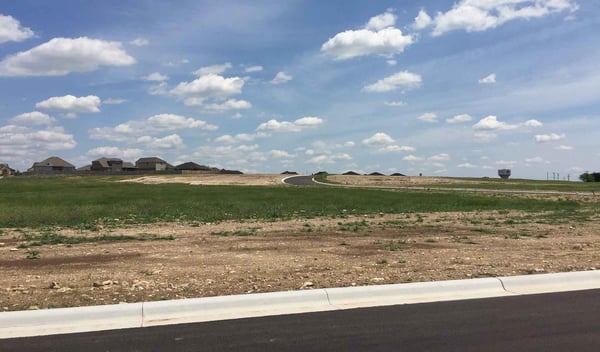 The newest phase of Hills of Westwood will include over 100 new trees planted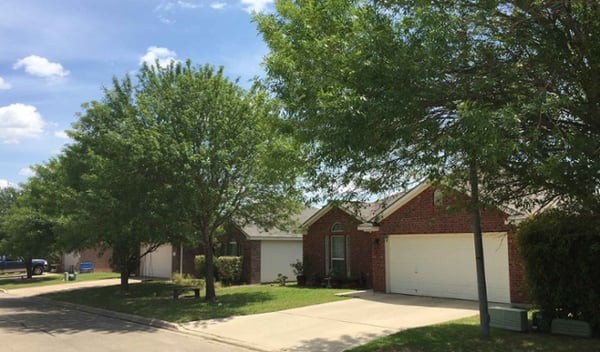 Over 10 years later, these newly planted trees create a gorgeous canopy lining the streets in Oaks at Westwood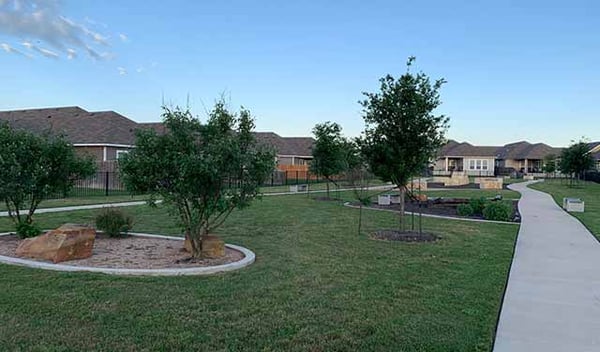 Trees planted in the community park at Villages of Westfield
Over the course of the last 52 years, Omega has planted over 4800 trees in communities throughout Bell, Brazos & Williamson counties.

4,809 Trees Planted
Editor's Note: This post was originally published in April 2018 and has been updated to reflect the most current information