Most designers will tell you that it costs between $10-15k per ROOM to furnish a home properly. I don't know about you, but most people buying their first home don't have a budget like that!
The truth is, you can furnish a home on any budget, as long as you have a game plan and remember this one thing:
Do NOT feel the pressure to have your home fully furnished within the first year that you move-in. A comfortable home has layers and personality. If you don't have the budget, take your time finding the perfect pieces and collect things as you're able.
SUPER IMPORTANT - Save the actual shopping until after you close on your new home! Don't put your loan in jeopardy by making large purchases, instead, use the time to plan & find the best deals so you know what you want & where to get it!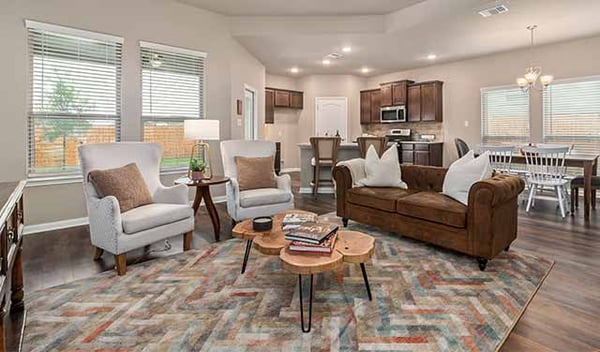 Top 10 Furnishings to Buy for your New Home
1. Mattresses
Buy the mattress you love first! You spend 1/3 of your life asleep, don't overlook one of the most important aspects of getting a good night sleep. Make sure everyone in your family has a mattress and pillow that fits their sleep style & will last.


2. Sheets & Towels
There is a reason that hotels only use white sheets and towels. Not only will you know your linens are clean, but you can bleach if needed and even after years of washing, white linens show significantly less wear than colorful linens.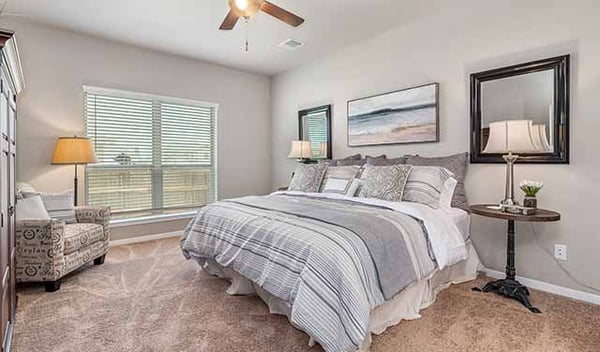 3. Sofa
Choose one that makes you want to fall asleep every time you sit on it. Dedicate a good portion of your budget here, this is an investment piece that can last 10+ years.
Go for quality in a neutral color.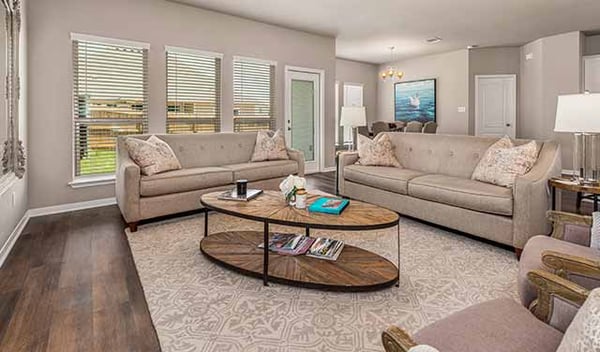 If you aren't allergic to down, get a sofa with down wrapped cushions and pillows. A skirted sofa is usually best and a slip cover is even better because you can wash it!
Avoid the fake vinyl leather, you'll see wear & tear immediately and will end up replacing it. Only opt for leather if you don't have pets or small children.
Avoid the temptation to buy a sectional unless you have a large immediate family living in your home.
4. TV
Do NOT, I repeat, do NOT buy the most advanced technology available! Buy a good brand name like Sony or Samsung, but new electronics come out so frequently that you can save a lot on the previous year's model.
It took 5 years before streaming services caught up to 1080p televisions and while you can get a 4K TV, it's rare to find broadcast in 4K.
5. Dining Table
Another anchor piece for your home, buying the right table is a worthwhile investment.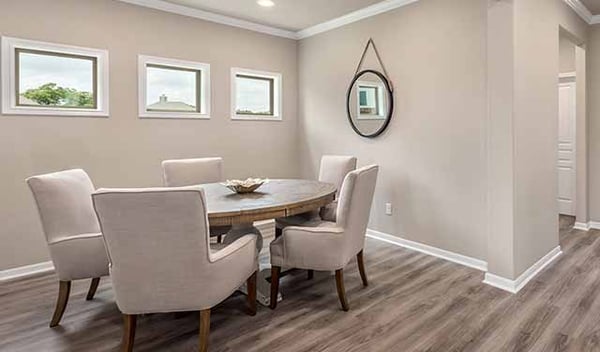 Get something solid, avoid veneer woods and glass that are impossible to repair scratches on.
6. Dining Chairs, Bar Stools & Accent Chairs
When it comes to chairs, you can spend a lot or a little. They are super easy to change out if you want to refresh your style.
Think of how often you will sit in them before setting your budget and buy the ones you need to use regularly first.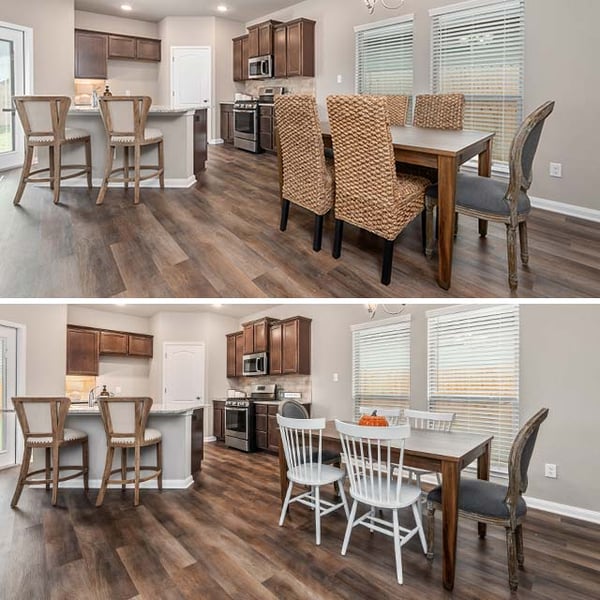 7. Accent Tables
You'll want nightstands, chest of drawers, dressers, end tables, coffee tables, entry chests, etc. so start with the pieces you need most first.
Avoid buying a matching bedroom set, instead think of each piece as an accent that you can layer into the look of each space.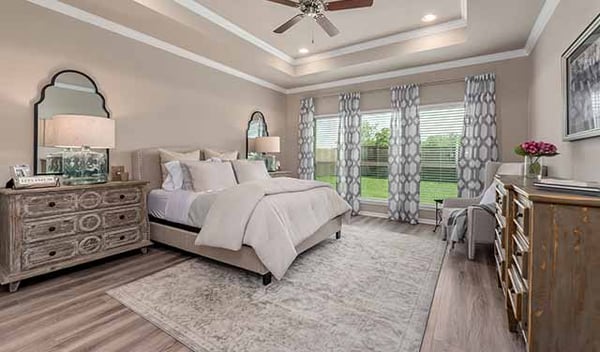 For more flexibility, find an inexpensive desk that you can use as nightstands so you get a little more storage & surface area if you need it.
If you'll be using drawers regularly, test the quality & check the construction for dove-tail corners - make sure they open & close easily.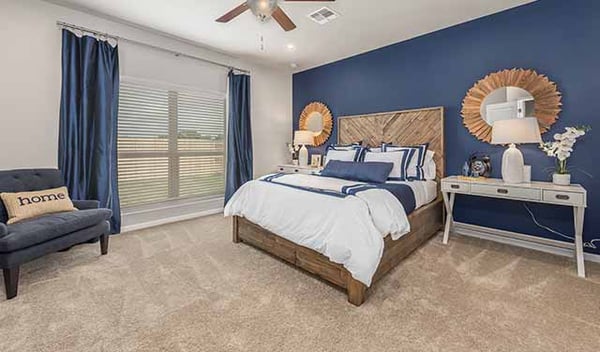 Look for versatile pieces, they make the best investment because you can use them for life. I've used an entry hall table as a nightstand, dresser, entertainment center, and more!
This is a great one to hold out on - don't rush to buy something, but take the time to find the right piece. As with most things, if there is a story behind how you found it, you're more likely to cherish it and keep it around longer, making it a better investment.
8. Rugs
If you have hard surface flooring, you are probably going to want a rug.
Most Omega floorplans are open concept layouts, using a rug really helps define a space.
Be careful with this one - rugs can be a massive investment, but they don't have to be. Rugs come in and out of style and if there's any damage, the value is gone.
Rugs are a great way to have fun and show your personality, they are also super easy to change.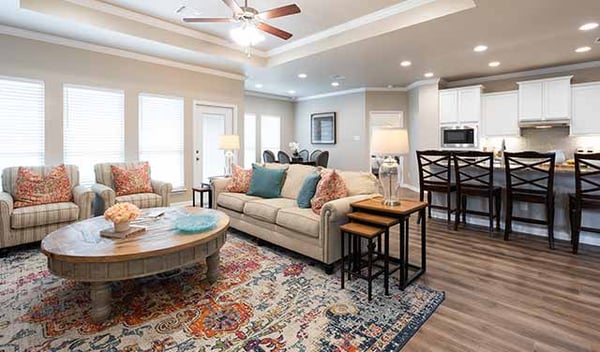 The biggest mistake you can make is buying a rug that doesn't fit the space properly. Smaller rugs are less expensive, but your furniture shouldn't look like a game of twister - instead of just one or two legs touching the rug, it should extend at least halfway under the furniture or to the back of the piece to truly define the space and not look like an island floating in the room.
The family room in Omega's floor plans should easily accommodate a 10x12 rug, but take good measurements of the room and furniture before determining the size you need.
9. Lamps
Accent lighting is super important in your home. Natural light and ceiling fixtures are essentials, but the nice warm glow of a lamp makes a house a home.
Try to buy a matching set if you can afford it, that way you can move them around to different places whether you need 1 or 2.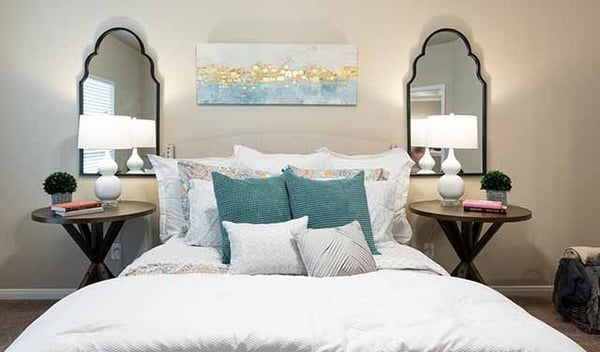 If you spend more on a lamp, choose a look that is clean with an enduring style and high quality construction. Otherwise, take the time to find the best deal!
Soft white bulbs offer a warm glow that takes your home design up a notch.
10. Mirrors & Art
This is where investment and personality meet.
Start with mirrors - a large scale mirror or pair of mirrors can really fill a blank wall, don't be afraid to do a series of mirrors either!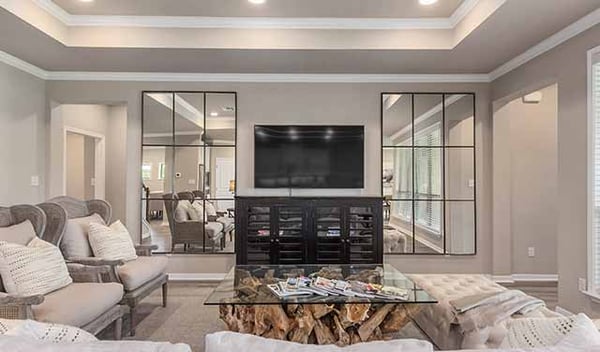 Full size mirrors almost disappear into the space. Not only do they make the room feel larger, but they reflect light out making it brighter, too.
Don't buy mirrors that lean against a wall and no matter how large or small the mirror, make sure you secure it safely to the wall with the appropriate hardware.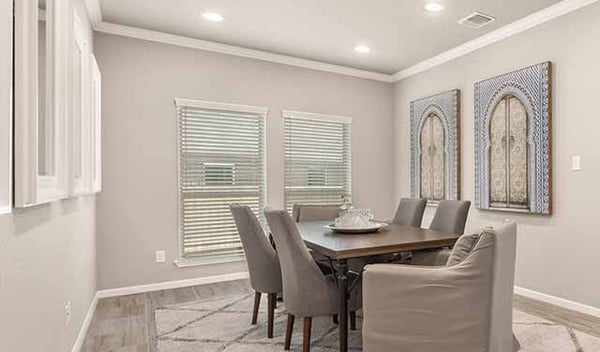 Whether you collect art when you travel or use your travel photos to make your own art, there are so many ways you can create a range of sizes & styles online.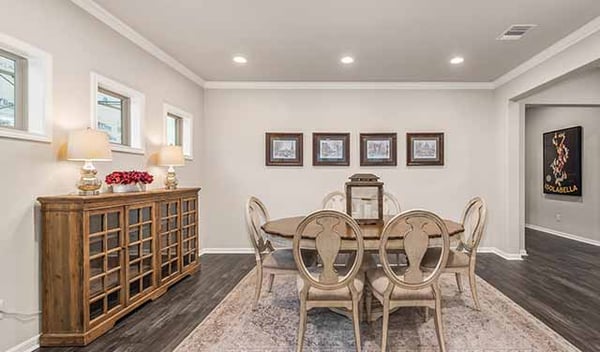 Go big or go home...small pieces get lost on the walls. Arranging them in a series can make a bigger statement, but keep it simple so you don't end up hating it later.
Don't be afraid of blank walls in your home until you can buy what you love. Art is like clothing, the pieces should reflect you.
Visiting a Model Home is a great way to visualize what furniture looks like and get ideas for what to put on your list.


Be careful when you're out shopping, you'll want to avoid over doing it with accessories. These should be the last thing you think about when decorating your home.
Accessories let your personality come through, avoid picking something to fill a space. Instead, wait until the right piece comes along that represents you, your life, family or your travels.
While trendy, avoid having too many things with quotes, words or phrases - they'll quickly overwhelm your space and choosing one that is right for you is worth the wait.
Start planning your budget with our handy Furniture Shopping List:
---
Featured Expert
Clay Lee is a REALTOR® with Century 21 Beal has an extensive background in real estate, new home construction and design. Clay is the Sales Consultant for Omega Builders in Bryan/College Station.
Broker #454149
---